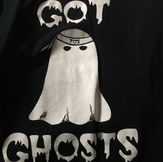 Tucson Ghost Society is a paranormal team that can investigate your business or home for
FREE!Tucson Ghost Society
​
we are a professional non-profit paranormal investigation team that is
fully insured
We are not about entertainment, we are about the Truth!
This is Tucson Ghost Society!
TGS members are:
Becky McKiddy-Gydesen-founder/lead investigator
William Gydesen-Co-founder/lead investigator
Mayela- team lead
Jen- team lead
Reina-Paranormal investigator
Audrey- Paranormal investigator
Natasha- Paranormal investigator
​
We search for the Truth!
We go beyond just "ghost hunting"! We try to dissect a haunting or anything paranormal to get the truth about what is really going on!
We encourage everyone who is contacting a paranormal team to Please be aware of who the team is!
Please know you should NEVER pay for a paranormal investigation!
Our team volunteers our time to help the people, community, and field anyway we can. We consider ourselves open-minded skeptics and know that not everything is paranormal but that there are things we can't explain too. We use equipment like DVR, recorders, emf meters and more to help us gather evidence. We feel it's important to know who you are letting into your home or business and we are willing to meet before an investigation.
Becky & Will Gydesen are the founders of this wonderful team. They have worked hard to make sure this team has a true understanding of all the hard work that goes into being a paranormal investigator.
For residential cases ONLY Becky, Will, or our team leads Mayela or Jen will contact a client via email (tucsonghostsociety@outlook.com or tucsonghostco@hotmail.com). If any calls are made it is usually done by (520) 373-5387 phone number. (Very rare cases it will be done by personal cell phones this is rare because our investigators keep their personal information personal—they aren't allowed to hand out personal numbers or emails for safety reasons).
For businesses cases, the rest of the team may contact you initially but will always give you the above emails or phone number listed above. Once Becky and Will have the contact information then all meetings (and any cancellations) will be done through them at the above emails or phone number.
​Even though Tucson Ghost Society is umbrellaed under Tucson Ghost Company, we are very different than the company. TGS is a very professional non-profit team that utilizes DVRs, recorders, EMF readers & more to try to figure out the cause of the clients paranormal concern. We don't go off of feelings, we go off of evidence! We are looking to debunk and basically dissect a haunting. We know a lot of things can come into play and that it is not all paranormal. We are truth seekers when it comes to ghost, UFO's, and anything else that would be considered paranormal or mythological.
​We do NOT use psychics or mediums on our team, we are more of a 'scientific' team. We are truth seekers! We won't say something is haunted unless we truly find evidence of things we can not explain.
​We do residential and business cases. We have helped many clients and have worked with well known locations.
Sorry but we will not give "blind" advice.
Also, we will not allow people to come on investigation with us; this is for safety & confidentiality reasons, the business offers tours & hunts for people who are curious.
All of our team members are properly trained before they are allowed to attend any investigations, so with our team you know you are getting professional prepared investigators.
We are willing to meet all clients in person in a public place before the investigation; this way the client may be more comfortable with whom they are letting into their home. We encourage all clients to be picky with whom you allow to come into your house and you should NEVER have to pay for a paranormal concern!
Mission Statement:
Tucson Ghost Society is a non-profit organization that was formed to help people in need of paranormal concerns and to contribute true paranormal evidence to the field. We will always provide true clear findings and represent the field in a true manner.
Core Beliefs:
Our Core Beliefs: We believe that not all haunting's are paranormal, that most cases can be debunked. We believe that demonic haunting's are rare and few in between. We believe in only presenting true scientific evidence to the clients and the paranormal field. (We will not use psychics/mediums on our investigations due to this.) We believe in never giving blind advice to anyone, that an investigation is needed to know the true cause of the possible haunting. We are open-minded skeptics.​
​
What we do:
If you have seen shows like Ghost Hunters then you have a little bit of an idea of what investigators do;
but its not exactly like it is seen on TV.
What we do:
1st: we do an interview intake, for this we will need your email to send you a questionnaire that will need to be filled out. Once we receive it back we will set up an in person interview within a week (or phone call depending on distance) While waiting on the in person interview, we will be researching the property. We do need everyone's permission over the age of 18 to be able to come in and help. After the in person interview is done, we will determine an investigation date.
*Please note we are not able to take on every single paranormal case, so the questionnaire you fill out and the in person interview helps determine if we can take on your case. We tend to take the most crucial cases. We do apologize and wish we could help everyone but we are a small team that volunteers our time and we have work and other obligations outside of this.
2nd: If we accept your case, we set up an investigation date and bring in all of our equipment which includes DVR system, misc equipment, and recorders. Our investigations usually run on a Friday or Saturday night from roughly 7pm-midnight.
3rd: we review the evidence and then let you know our findings and go from there. We always do the investigations for free.
Other equipment that may be used:
Hand Held Cameras
EMF meters such as the K2 and Ghost Meters
Rem Pod
Our trigger object Boo (a stuffed dog with a EMF detector inside)
Laser Grid
Kinnect
Spirit Box
We usually spend 4-8 hours in the location investigating, usually in the evening to night hours.
(We will not make a resident leave the location, but complete silence and lights out is a must. We will need you to work with us to ensure that we do not have contamination issues. )
We can try to cleanse your house, if you wish, after we are through with the investigation.
PLEASE NOTE: we are not able to deal with possessions, please seek a religious person to help that has training in that department.
It can take up to 2 weeks to schedule an investigation during our slow months and
sometimes if we are busy it could take months before we can come to your haunted location; but we do our best to schedule you asap. The sooner we have what we need, the sooner we can get started.
Once we are through with our investigation, we then take all the evidence and spend the next 2 weeks reviewing what we may or may not have found.
You will always hear back from one of our team members about your case within 2 weeks.
We will only start the process IF we can follow all the way through with the investigation; once the client intake form is done; and everyone in the household over the age of 18, is okay with us being there.
​
We are fully insured, one of the few paranormal teams out there that are.
Please note: we will send out via email a client intake form that will need to be filled out before scheduling an investigation and we will also need a waiver signed for the investigation.
We can provide references if needed! We have our team members pictures on the website so you can see who we are!
IF YOU DO NOT USE TGS as your investigation team; PLEASE be careful on the team you choose. There are a lot of teams that will call everything paranormal and provoke which can make matters worse. DO your research on the team and NEVER pay for an investigation!
​
To contact the Tucson Ghost Society:
You can call (520) 373-5387 or email
tucsonghostsociety@outlook.com
It will always be Mayela, Jen, Becky, or Will dealing with residential cases.
Then the other team members (see picture below) maybe contacting businesses but they will ALWAYS, give the information above out.
​ If you ever get any other information please let us know.
We are also about giving back to the community and often do different things for different charities.
Be sure to like our Facebook page: Tucson Ghost Society, to keep up on these charitable events.
https://www.facebook.com/Tucsonghostsociety​
We have worked with the historical Fox theater in downtown Tucson.
We have also worked with La Cocina, Museum of the Horse Solider, Slaughterhouse, Old Tucson, Borderlands Brewery, and other businesses in town.
We have also investigated and helped several private residents in Tucson and surrounding areas.
(Scroll down for reviews said about Tucson Ghost Society!)
We are here to help people in Arizona and surrounding areas.*

We can also speak at your event!
We have done several radio shows & panels, been interviewed for TV, books, newspapers, and more!
The founders & lead investigators, Becky & Will, also has their own radio show even that they host on Thursday's from 8-10pm Eastern.
*If areas are a far drive, we may try to find you another team in your area.
We are here to help you with your paranormal concerns;
you may contact us by emailing us direct at
tucsonghostsociety@outlook.com
Tucson Ghost Society Reviews:

​
We have had people call us up and want to work with us because they said they had amateur ghost hunters out and they want to actually be able to document the evidence that those teams could not.
​We also have worked with places that had been investigated in the past and we were told that they loved our evidence, that our evidence was much clearer, we had a lot more documented, and that they loved we came back to them with more than just "feelings"
​Here is what others have had to say:
"Our Thanks go out to you guys once again. You were sooo very professional, polite, concerned and thorough. I couldn't believe the extent to which you all went to try to ghost hunt this house. And, going those extra steps for us so that all of our conce

rns were addressed and covered. You all rock! Becky, I asked for extra help and you delivered, thank you. God Bless all of you for the kindness that you give to people in need."



"I thought no one could help me and my family. By chance I saw her on Facebook. I thought I could never afford her services. I was so surprised to hear her say she would help us for free. Her team came to my home. Took base line readings while she listened to our issues. She asked questions, set up the equipment and was so compassionate about our needs and concerns. The investigation ended and they left. She called and said they had found some evp's and wanted to come by to share them with us. It turned out that we did have some spirits and one dark entity that she asked to leave. My kids no longer are afraid to sleep in their own rooms. They don't see or hear anything bad. If it wasn't for Becky and really great team life would be very different for my family. I would recommend Becky to anyone who has anything going on in their homes. She did some research on my home and gave us information that we otherwise would never have known. You can't put a price on how much Becky and her team have done for us. Peace of mind , safety , and the comfort of knowing our house is OK now. God bless you ,Becky, and your awesome team."

"I'm so happy we contacted you Becky because you really care about your clients and helping them"



​
---